Rudi Davis is a Senior SEO & Content Manager at Publicize. We had the chance to sit down with him to discuss his advice for startups and how entrepreneurs can best leverage this marketing channel.
For entrepreneurs unfamiliar with SEO, can you talk to us about some of the essentials of search?
With advice for SEO, I normally like to start with an overview of search theory, which can help conceptualize the advice.
One of the ways I conceptualize it is with the search demand curve. If you took an economics class in college, you'll already be familiar with this – it's pretty much the demand curve theory, but applied to search terms.
This places search into three categories:
Head – one or two-word searches with super high volume and competitiveness, e.g. "insurance".
Body – two or three-word searches with moderate volume and competitiveness, e.g. "auto insurance".
Long tail – longer, more descriptive searches with much lower volume and competitiveness, e.g. "auto insurance for Tesla Model 3"
Why is understanding this theory important? Well if you're a startup, you're not going to get anywhere near page one for head terms.
This shouldn't be your target either, as they're less focused searches. Body keywords? Perhaps this is achievable if your startup is in a market that hasn't matured yet.
And longtail? Absolutely yes.
For finding keywords, is there a place you recommend starting with?
For a content plan I recommend starting by exploring the keywords that your competitors are ranking for. For this, you can use the keyword explorer in SEMrush or Moz to find related keywords.
You want to aim for keywords with comparatively good search volume and low competitiveness.
Ok, once a startup has these keywords how should one go about creating a content plan?
There are many different types of content you can create, so I recommend one not just restrict this to the standard 1,000 word blog post. Look at the type of content that's ranking well for your competitors.
This could be blogs, guides, infographics, videos or downloadable resources. Start thinking about how you could produce this type of content on your site.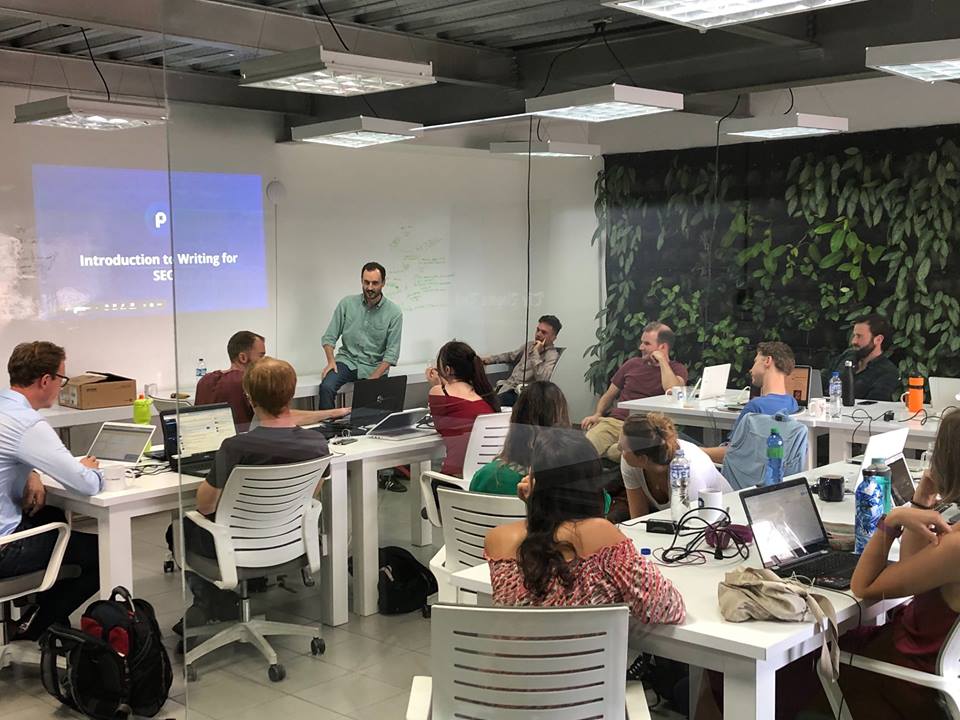 Any other advice for creating content?
For creating content, one thing to be aware of is user intent. What this means, is understanding what the user is looking for when they perform their search query.
While keyword research still forms the basis of a content plan, you need to produce content that provides a resolution to the user intent.
Here's an example. A lot of startup founders will search Google for information on press releases shortly after launch. There are hundreds of search variations for this, but some popular keyword terms are "startup press release," "company launch press release" and "sending a press release."
The user intent with these searches is to learn how to write and send out a press release. So for content to rank well, it needs to provide an answer to this user intent, not just be optimized for the keywords.
How can PR be used for SEO?
For PR and SEO, this is important because backlinks remain one of the most important ranking factors. But you need to focus on quality, not quantity. If you're an early stage startup, then winning just a handful of backlinks from a few high authority sites will be a good start.
However, a relatively new website that doesn't have that much content will struggle to gain backlinks passively.
This is where PR can help. Winning media coverage is a great way to quickly gain high authority backlinks. This can include sending out press releases, writing guest articles, and/or providing commentary on current events.
Each time you win a piece of media coverage, you'll more likely than not receive a do-follow backlink to your site.
Guest blogging remains popular. Do you have any thought on this?
In my opinion guest blogging remains one of the most effective ways of how to build a startup's digital footprint and backlinks. But some people get very nervous at the mere mention of guest blogging, in part due to Google's former Head of Web Spam Matt Cutts announcing the death of this several years ago.
However that misses the point a bit. He announced that there would no longer be any SEO value with poor quality guest blogs on questionable websites.
At the same time, if you can bag a guest post on a top industry blog, or a leading publication like Forbes or Entrepreneur, this has a great deal of value.