With a slew of regional resources, large-scale investments, a devoted accelerator, and a bustling community of startups, the Windy City is winding up to become a national hub for quantum technology.
In stark contrast to just $977 million from three venture capital funds in 2016, Chicago is now home to 17 venture capital funds, who raised a combined total of $7.42 billion in 2021. As a result, there are now 26 Chicago-based companies valued at over $1 billion, an increase from just eight in 2016. In 2020, 13 Chicago-based startups achieved the coveted unicorn status, including the celebrity video app Cameo and the investment firm Enfusion Inc., now valued at $2 billion.
Penny Pritzker, founder and chair of the investment firm PSP Capital Partners and U.S. Secretary of Commerce for the Obama Administration, took note. "It's under-noticed what's happening in our city," she said. "That's why I'm so bullish on the future of our tech leadership position. I think we have an authentic right to win, particularly in areas like quantum computing."
Penny Pritzker's many achievements in Chicago business include the creation of P33, a Chicago non-profit organization devoted to developing the city's tech sector. The group's name comes from the 1933 World's Fair, which celebrated Chicago's centennial and showcased its technological innovations. Their goal is to make Chicago a center of innovation by the city's 200th anniversary in 2033.
According to Brian Henderson, CEO of P33, the Chicago tech sector is famously overlooked, even with its recent astronomical growth.
"I think what distinguishes Chicago is this sense of humility. It's a bit of a lunch bucket, hardhat kind of town, even in our tech sector," said Henderson. "We want to be the best at solving real problems. If you want hype, go to San Francisco. But if you want pragmatic, go to Chicago."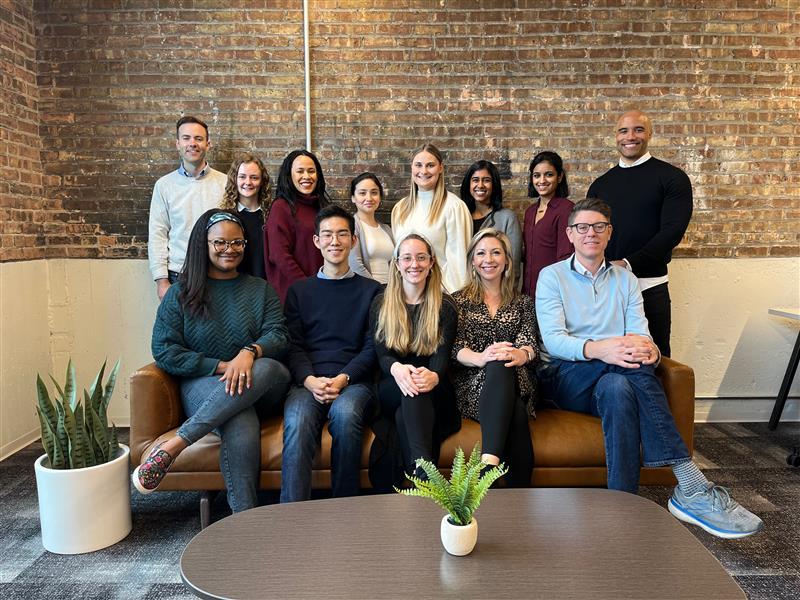 P33 defines Chicago's quantum sector as a regional priority, and Henderson has collaborated with the Chicago Quantum Exchange (CQE), a quantum research organization, to successfully compete for federal funding — "the lifeblood" of building the region's quantum sector.
The largest victory for Chicago quantum comes from the National Quantum Initiative. Signed by President Trump in 2018, it created five national quantum research centers across the country, two of which are now in the Chicagoland region. Located a short drive from the city center at the Argonne and Fermi National Laboratories, each institution received $115 million in federal funding. In 2021, the University of Chicago's QuBBE center was also granted a $25 million investment by the National Science Foundation (NSF).
Henderson refers to winning two of the five quantum sector grants as "a coup".
"It was a huge deal. Chicago has great science. We always have. But we've not been great about turning science into jobs and companies," he said. "Quantum is a massive future opportunity, and we've got the pieces to succeed. But if the past is our guide, we'll miss our opportunity. The government, industry, venture, and professors all need to work together on a big scale."
With this in mind, P33 helped create Duality, the nation's first startup incubator devoted exclusively to quantum tech. Led by the University of Chicago's Polsky Center for Entrepreneurship and Innovation and the Chicago Quantum Exchange, the incubator's founding partners also include the University of Illinois at Urbana-Champaign and the Argonne National Laboratory.
Dr. Preeti Chalsani, deputy director of Duality and joint director of partnerships at the Polsky Center and CQE, said that the region's established quantum ecosystem made Chicago the most logical place to found Duality. "We're leveraging that ecosystem to nourish and grow these startups," she said. "We have a base of some really world class research here, and we're helping these entrepreneurs to bridge this research with applications that real customers can use."
The six quantum startups in Duality's first cohort, announced last year, each received $50,000 in non-dilutive funding. The startups also relocated to Chicago for the duration of the 12-month program, allowing them to take advantage of structured entrepreneurial education and a sprawling network of business and research professionals.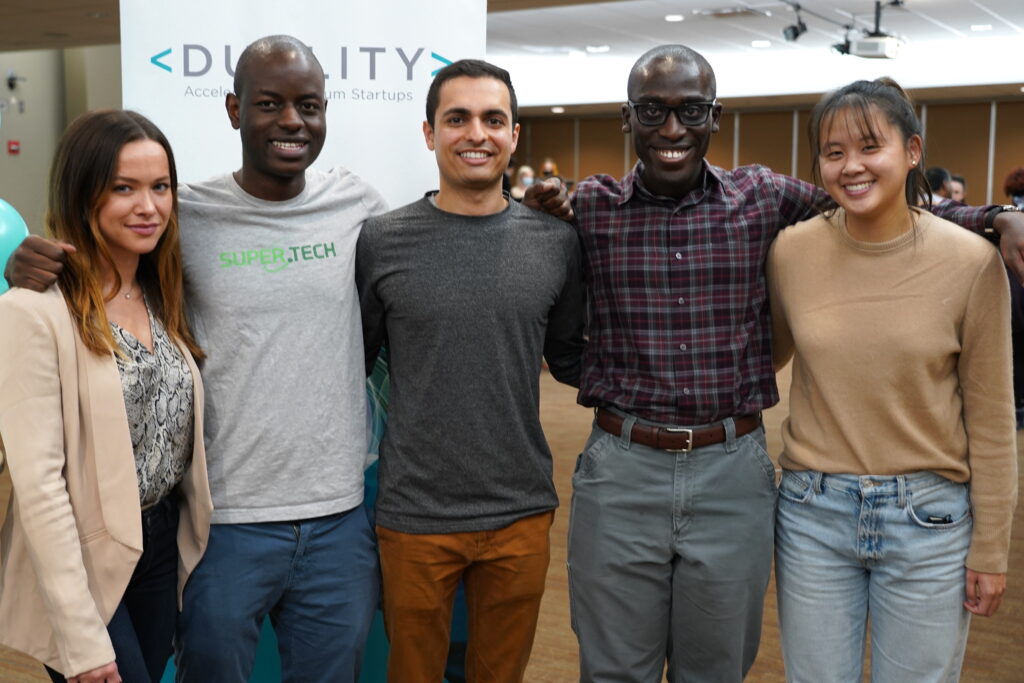 Super.tech, a member of the first cohort, is a quantum software startup working to create integrative quantum software designed to act as a force multiplier for quantum computing as a whole. Their flagship product, SuperstaQ, is a software platform that allows applications to run more efficiently on quantum hardware.
By mid-2020, Super.tech raised a combined total of $500,000 from the University of Chicago and other investors. Since joining Duality last year, they've also secured three Small Business Innovation Research grants — two valued at $250,000, and a third valued at $1.65 million from the Department of Energy.
Pranav Gokhale, CEO and co-founder of Super.tech, said he never anticipated to start a tech company in the Midwest. Like many others, he expected to move to the Bay Area. That changed during his doctorate studies at the University of Chicago.
According to him, "In the Bay Area, quantum is just one of many technologies that they care about. But there's almost a chorus among the leadership of Chicago and of Illinois that quantum is what they want. There's so much talent and support for these programs, and that's creating this ecosystem where quantum is a big part of the emerging economy."
Vocal supporters of the region's quantum sector include Chicago Mayor Lori Lightfoot, Illinois Governor JB Pritzker, and aforementioned P33 heavyweight Penny Pritzker, who was appointed to the President's Council of Advisors on Science and Technology last year. In 2019, Gov. Pritzker devoted $200 million in state funding to establish Chicago "as a leading quantum hub."
Gov. Pritzker said, "The sheer potential of quantum to transform the way so many sectors operate has been matched at only a few points in human history, and Illinois' advantages in the quantum revolution have already centered our state as a leader. Illinois has the world's foremost quantum scientists, experts, and leaders as well as a diverse and formidable network of some of the world's best educational institutions. As a leader in technology and innovation, it is no surprise that the nation's first quantum incubator-accelerator is opening here."
During a 2020 announcement of a blueprint strategy for the development of a national quantum internet, Mayor Lori Lightfoot also expressed her support. Shared in a tweet by the Polsky Center, she said, "With our universities like UChicago, and our incubators like 1871 and the Polsky Center, our innovation campuses like DiscoverDPI, and our cutting edge technology scene, Chicago is where it's happening."
The blueprint strategy for a national quantum internet is the result of a partnership between the Department of Energy and the University of Chicago, which was recently ranked among Stanford and Harvard as one of the top ten quantum tech research universities in the world.
The number of research universities in and around Chicago are another key in Chicago's rise to quantum stardom. The nearby University of Illinois, which produces more engineers than any other university in America, offers the Chicago tech sector a continuous pool of new talent.
According to Gokhale, "It's nice to be here to welcome very talented grads who are looking to translate their education in quantum to careers in quantum. Before us, they generally had to move to New York or California."
Although the region's universities offer a continuous source of new talent and research, Chalsani also highlighted the importance of Illinois's diverse industry base. Because of Chicago's unique history as a national railroad center and the financial capital of the Midwest, the city has formidable industries in accounting, insurance, and pharmaceuticals as well as manufacturing, logistics, and transportation, among many others.
For Chalsani, this diverse industry base gives Chicago a legup on other emerging quantum hubs. Each industry has its own unique applications for quantum tech, giving quantum startups in Chicago an incredibly diverse customer base.
"If you're looking at an emergent technology that needs to be adopted by different industries, what better place to do that than a place that has a diverse industry base? Startups eventually need to be close to their customers, and we have a really diverse range of customers," said Chalsani.
This cross-industry network has been particularly valuable for Super.tech. Due to the complexity of explaining quantum applications, the sales process can be difficult — a problem addressed by Duality's corporate collision events. Hosted every few months, the events connect startups with companies who are already aware of the capabilities of quantum tech in relation to their business needs.
These events allow startups to speak to multiple potential clients at the same time. As a result, Super.tech has been able to kick off a number of key customer engagements. "We haven't needed to grow a big sales or marketing team, because we're exposed, through Duality, to customers who already have dollars on their mind for quantum," said Gokhale.
As a result of joining Duality, Super.tech is also a founding member of the Quantum Economic Development Consortium (QED-C). They've also received business and legal mentoring from the incubator's business liaison program.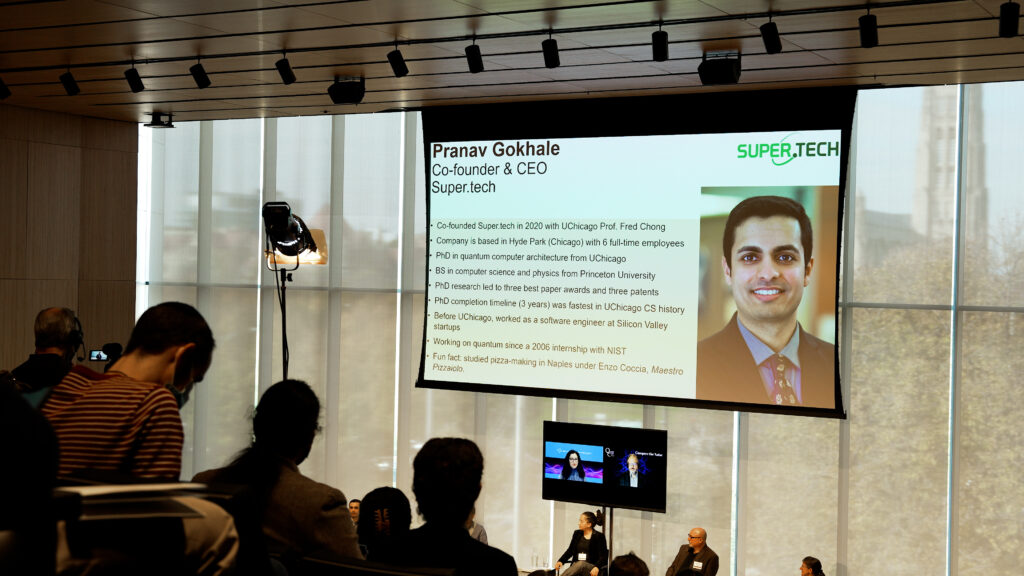 For Chalsani, every resource, no matter how small, is an important building block in Chicago's quantum future. "We're creating this ecosystem here that brings together all of these stakeholders and creates a marketplace for technologies and talent," said Chalsani. "In turn, by bringing these startups from across the world, we're also growing our own ecosystem with a multiplicative factor, and that benefits everyone."
It's an ecosystem that extends well past Duality, with companies from around the country increasingly relocating to the Windy City to take advantage of its booming quantum sector. After a nationwide search for a new headquarters, the quantum computing startup EeroQ relocated to Chicago's West Side in January.
"Chicago will become a leading center for quantum computing," said Nick Farina, CEO of EeroQ. "Talent and local support are critical, and we have found all of that in Chicago with a world-class base of quantum computing talent and unmatched local support. We conducted a national search for a headquarters and Chicago was by far the best option for us."
Further adding to Chicago's growing list of quantum recruits is ColdQuanta, who announced their acquisition of Super.tech earlier this week. Based in Boulder, CO, the quantum hardware company's impressive global clientele includes NASA, who recently employed ColdQuanta's cold atom technology on the International Space Station.
Super.tech will now work in collaboration with ColdQuanta's teams in Madison, WI and Oxford, U.K. to lead the company's new Chicago offices.
"With this acquisition, ColdQuanta is establishing an office in Chicago which will allow the company to tap into the tremendous talent and innovation from the University of Chicago, the Chicago Quantum Exchange, and the city's startup ecosystem," said Fred Chong, Chief Scientist at Super.tech and renowned Professor of Computer Science at the University of Chicago. "Together, we will create an unstoppable force in quantum by enabling customers to maximize the performance and value of their quantum computing investments."
ColdQuanta also announced the beta launch of the world's first commercial atom quantum computer, Hilbert, which will be greatly enhanced by Super.tech's quantum software expertise.
"Since its launch, Super.tech has been recognized as an innovator in quantum software and benchmarking," said Scott Faris, CEO of ColdQuanta. "The combination of Super.tech's software applications and algorithms and ColdQuanta's ground-breaking quantum computer, Hilbert, will enable customers to accelerate time to value."
With this rich ecosystem of research, talent, and funding, P33 is more optimistic than ever about Chicago's future as a quantum hub. "The secure quantum internet of the future has a Chicago company, Chicago professors, and Chicago investors on the nameplate as being invented here," said Henderson.
For those interested in learning more about quantum, Gokhale recommends studying anything you can get your hands on. He says most quantum programming languages are completely open source, and tutorials of all levels are readily available online for industry standard languages like QisKit and Cirq.
In closing, Chalsani expressed her excitement for the future of quantum — especially for those in and around Illinois. "If you're here in Chicago or the Midwest, you really are in the middle of it. Chicago has done really well over the last few years in terms of startups and investments, and I think it'll continue growing," she said. "Ideally, I'd like to think of this as the place that becomes synonymous with quantum; the same way we think about Boston as biotech, or Silicon Valley as, well, Silicon Valley."
Applications for Duality's second cohort closed on April 1st. Chalsani is currently working with over 50 industry professionals to help pick the class, which they plan to announce in early June.