Next week, six healthtech startups will have the chance to showcase their ideas to a panel of journalists in Publicize's first online Connect event.
The virtual Connect: Healthtech event — which will take place on August 27, from 1PM until 2.30PM EDT — will give the startups a chance to gain access to feedback, and valuable insights from the startup and technology media on how best to pitch their businesses.
There will also be a live Q&A session with the media judges after the startups have pitched, for founders and members of the public to ask questions.
Co-founded in 2013, Publicize is a digital public relations company for growth, based in Medellín, Colombia.
Since they first launched in 2017, in-person Publicize Connect events have taken place in Medellín, Bogotá, Mexico City and Miami.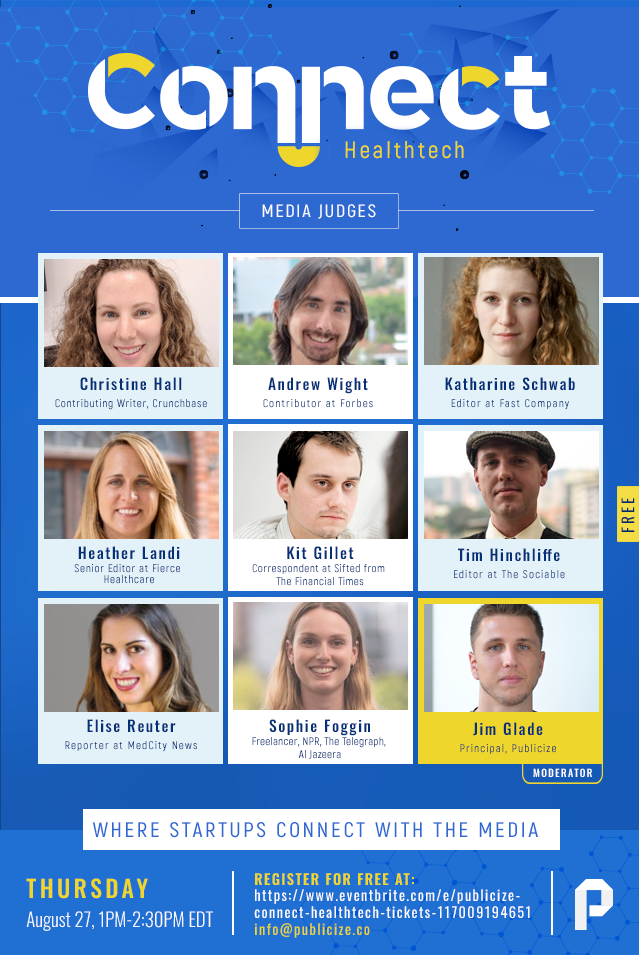 This year, however, will be the first virtual event, due to lockdown restrictions to help prevent the spread of COVID-19.
Media judges at next week's virtual Connect: Healthtech will include:
– Katharine Schwab, Editor, Fast Company
– Christine Hall, Contributing Writer, Crunchbase
– Andrew Wight, Contributor, Forbes
– Kit Gillet, Central and Eastern Europe Correspondent at Sifted from The Financial Times
– Heather Landi, Senior Editor, Fierce Healthcare
– Elise Reuter, Reporter, MedCity News
– Tim Hinchliffe, Editor, The Sociable
– Sophie Foggin, Freelancer, NPR, The Telegraph, Al Jazeera
Attendance to the virtual webinar is free, and those wishing to sign up can do so here.
Full disclosure: Publicize subsidizes Startup Beat.