Company: Appboy
Website: www.appboy.com
Founders: Bill Magnuson, Jon Hyman, Mark Ghermezian
Headquarters: New York City
Year Founded: 2011
Investors: Blumberg Capital, Metamorphic Ventures, Accelerator Ventures, Bullpen Capital, T5 Capital
Twitter: @appboy
Facebook: facebook.com/appboy
Blog: blog.appboy.com
Brief Company Description: Appboy is a customer relationship management platform for mobile applications that enables you to understand your mobile users better than you ever have before.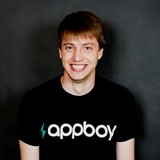 By Bill Magnuson, co-founder and CTO
Product Overview
Appboy's SDK plus web dashboard enables mobile app owners to:
Analyze event and data-defined user segments by tracking and maintaining user profiles complete with app usage analytics, custom feature usage stats, social network data and demographics.
Effectively market to event and data-defined user populations through push notifications, in-app messaging and news, email, and social media.
Receive and handle feedback from users that enables better customer service and prevents negative feedback in app stores.
Founders' Story
On a fateful Wednesday evening in May of 2011, I received an email from a former co-worker, Jon Hyman (now CIO), wondering if I was interested in competing with him at the Disrupt NYC hackathon that weekend. I had already made plans to spend the weekend in Vermont enjoying the great outdoors, but was pretty easily convinced to change them in lieu of hacking for 24 hours in a warehouse.
At the Hackathon, Jon and I built Gilt-II, which ended up taking top prize (http://techcrunch.com/2011/05/22/gilt-ii-takes-top-prize-at-the-techcrunch-disrupt-hackathon/) and caused a huge amount of recruiting outreach for both of us. However, in the end it wasn't one of the hundreds of emails that piqued our interest, it was a chance encounter on a street corner in Manhattan where I briefly met Bipul Singha (now an Appboy Advisory Board member). After 30 seconds of conversation waiting for the light to change, Bipul took down my email and later introduced me to Mark (co-founder Mark Ghermezian).
After a month of ignoring my inbox, I finally decided to take a break from my current work and go through the pile. Bipul's email stuck out in the crowd and before we knew it Mark was flying up from Houston to meet Jon and I for dinner and discuss the terms of what would eventually become Appboy. Within three weeks we had all quit our respective jobs and moved to Manhattan. Appboy was born.
Marketing/Promotion Strategy
As mobile explodes, more and more companies are focusing on the B2B aspects of the ecosystem by building services at every stage of an app's lifecycle. Appboy focuses on empowering app owners to understand and communicate/market to their users. We also give them direct access to user feedback so they can make better decisions and listen to their customers. These services are best leveraged by CMOs at enterprise companies and decision makers at small businesses who need them to expand, engage and monetize their user base more effectively.
How are we targeting these decision makers at enterprise/small businesses, as well as individual developers? We have a diligent PR and marketing team that specializes in rolling out launches for startups and also have expertise in reaching outlets that target these ideal demographics.
As part of any rollout, our PR and marketing team announces new features, partnerships, and funding announcements. The same team also assists with securing opportunities with relevant conferences as sponsors, panelists, and key note speakers.
How We Differentiate from the Competition
Appboy ambitiously offers a full CRM, marketing and analytics platform in a single package. This approach allows us to offer unique features which live at the intersection of what are generally single products. Some examples include:
* Automatic creation of user profiles which are populated with demographic, feature usage and social web data by our analytics package.
* Delivery of marketing campaigns and execution of user retention workflows which can be targeted with CRM and analytics data, and delivered through multiple marketing mediums.
* Targeting cross promotion and other monetization opportunities to relevant user groups, ensuring higher effectiveness.
* The ability to correlate marketing efforts with app usage and other analytics, which gives you the ability to zero in on the best strategies for your user base.
Business Model
Appboy's customers subscribe to our services on a monthly basis. Pricing amounts follow the familiar CRM pricing model of scaling the subscription cost with the number of app users being tracked, as well as charging for utilization of certain premium features. Additionally, Appboy is exploring partnerships with monetization services that will be offered to users of the Appboy platform on a revenue share basis.
Current Needs
Appboy is looking to expand its engineering and sales teams. On the engineering side, we're hiring software talent across our web, backend, and mobile stacks. We're also looking for great UI/UX design talent, which can help us bring our powerful tools to the next level.
Appboy – www.appboy.com