Back in 2013, as I sat looking for a job for the upcoming summer, I asked myself the question: What interests me?
Of my responses, two stood out: skateboards and sustainability.
A quick Google search later, I stumbled upon an article by Forbes, describing three guys who were building plastic skateboards from recycled fishnets in Chile.
At this point, I had been riding plastic Penny boards for a few years, and immediately fell in love with the idea of making plastic skate decks out of recycled materials.
Bureo — a startup based in Ventura, California and Santiago, Chile — had been doing just that since its start in 2010, taking fishnet waste from the Chilean coast and transforming it into plastic cruisers.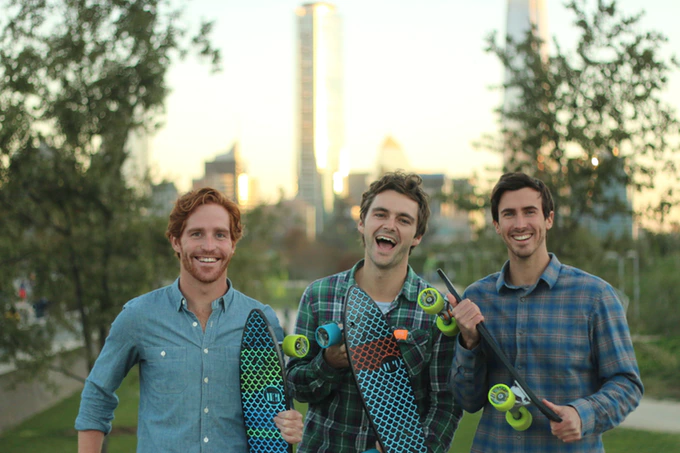 Founded by three New England natives, surfers, and environmental enthusiasts, the company has set out to clean up the ocean by ridding it of plastic waste one step at a time. While this task is a monumental one, the company's name has a strong tie to its mission and highlights its overarching goal.
"The name 'Bureo' comes from the language of the Mapuche, the native Chileans, and means 'the waves'. Selected in honor of the Chilean people, the name represents our mission. Just as a wave originates from a disturbance of wind along the ocean surface, Bureo is starting with a small change in an ocean of plastic. Through time and energy, the waves of Bureo will develop the force required to cause real change." — Kickstarter campaign, 2014
Fishnets are said to make up about 10 percent of the ocean's waste, which serves as both a daunting challenge and incredible opportunity for Bureo.
As such, the company launched its Net Positiva initiative in January 2014, aimed at collecting and recycling derelict fishing nets along the Chilean coast, to later use in the production of its skateboards. As the first nation-wide fishnet collection and recycling program in Chile, Bureo also helps local fisherman overcome the difficult issue of net disposal, and supports local communities in the process.
Since the launch of the initiative, the company has reclaimed over 200,000 square feet of fishing nets, for a total of over 100,000 kilograms, which have been used primarily in the production of the company's skateboards, but also for auxiliary products such as sunglasses, and most recently, frisbees, as a part of its NetPlus program.
To date, Bureo has launched two models of skateboards — the Minnow and the Ahi. The aptly-named Minnow, a small cruiser in the shape of a fish, came to fruition as a result of the company's successful Kickstarter campaign in 2014. More recently, Bureo partnered with renowned skateboard manufacturer ,Carver, to produce the Ahi which is discussed in detail in a recent production by Red Bull TV.
In addition to the support of Carver, Bureo has also earned the support of musician and surfer Jack Johnson, who serves as a strong advocate for the company and its mission. In fact, during his summer 2017 tour, Jack Johnson partnered with Bureo to sell the company's Fishnet Flyer at merchandise booths as a part of his greater effort to promote sustainability at his concerts.

Moving forward, the company intends to continue chasing its dream of cleaning up the oceans with increased enthusiasm. According to CEO and Co-Founder David Stover, as reported to Digital Trends, "Since the Red Bull filming, we have been focused on growing our recycling operations and expanding our collection footprint. In addition to [an] ongoing production with Carver, we have been working on a longer-term development project with Patagonia to expand our recycling capabilities."
Co-Founder Ben Kneppers reiterates this sentiment in the Red Bull film, stating, "The whole reason we did this was just to create change. So, that's our end goal. And it's a scalable change that we're trying to take to every fishery in need. And that's really what we're after. We're proving the model down here in Chile, but it's something we can replicate globally."
According to a recent blog post by the company, we should expect additional partnerships and product offerings to be announced later this year.