December 8-10, 2017 saw the second global StartUp Weekend event in Sao Paulo, Brazil, which was organized by Bruno Diniz and a number of other community leaders. Bruno was elected the President of the FinTech Committee for ABStartUps in November 2016 and named the #1 influencer of Fintech in Brazil in December 2016, who was interviewed before and after the event for his expert insights and event information.
One of StartUp Weekend SP Blockchain's organizers, Bruno Diniz, named #1 influencer of Fintech in Brazil
In 2015, Bruno Diniz left the traditional investment banking sphere towork exclusively with Fintech and began helping organizations and agencies make connections and elevating startups.
Bruno founded Spiralem, an innovation consulting firm focused on Fintech, which "carries out projects for financial market institutions and national and international government agencies, aiming to bring them closer to new solutions and technologies" by developing corporate venture strategies, promoting matchmaking, accessing new markets and innovations, and producing Hackathons, conferences, and events.
In early 2017, a Hackathon, created by Bruno Diniz, held a competition, where 3 companies were chosen to receive 45 days of intensive accelerator help and then offered the chance to pitch to the sponsor Santander Bank in Brazil for a prize of $25,000 BRL (Brazil's currency).
By mid-2017, Bruno had organized a Hackathon for The Brazilian Banks Federation's (FEBRABAN) CIAB 2017, a FinTech event, which was a new concept for them and resulted in 3 finalists.
StartUp Weekend Sao Paulo Blockchain 2017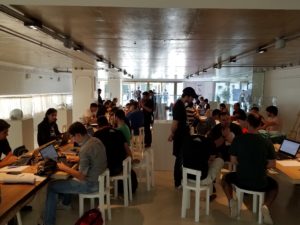 Organizer Bruno Diniz of the 2nd global StartUp Weekend Blockchain event, in Sao Paulo, Brazil, for December 8-10, 2017, received platinum sponsorship from Foxbit, patron support from Beyond and FLAGCX,  and mentors from top organizations. Bruno led a bootcamp on December 4 to prepare the group for the event and welcomed guests and esteemed partners to the StartUp Weekend SP Blockchain (FB live video).
During Bruno's interview, he discussed how, as is common in these fast-paced "less-talk-more-action" StartUp Weekends, how Friday's meeting in the co-working space had 75 participants jump head first into giving their 1-minute pitch, after a short presentation. 36 1-minute pitches were made, from which they formed 12 teams for the best ideas voted to continue in the event.
Saturday was held in the FLAGCX marketing firm space, and lecturers discussed the journey to be taken from zero to hero during the event. In an unusual situation, 2 teams terminated their projects and dissolved their members into other teams, leaving 10 teams to carry on, to change their projects with industrious abandon based upon feedback (especially on visibility), and to even sleep there overnight to keep their momentum.
Sunday beget 2 rounds of pitches at noon and 2 pm, in preparation for the submission to the jury at 4 pm, and the jury's decisions at 6 pm. The jury for this event was comprised of João Canhada, Roberto Martini, Antonio Carlos Amorim, Guilherme Horn, and Helena Suarez Margarido.
Winners: Honorable Mention by the Jury was Ticket Coin (platform to validate tickets to shows), 3rd place was Green Token (platform for ICOs of Green Tech), 2nd place was Blocka (platform for rental of items such as bikes), and 1st place was Komus (platform to create a pool of investors who will insure small technology such as cell phones, tablets, etc. with distributed risk). It bears mentioning that the 2ndplace winner Blocka had 3 transactions during the weekend event!
Although not winners, there were some interesting project ideas that Bruno shared in an interview:
Social: smart contracts for marriages that start with 3 years and have 1-year extensions, managed with rules under the algorithm
Gamefy: a marketplace for gamers to trade items and related things back into money
TrustVesting: vesting contracts managed with smart contracts for societies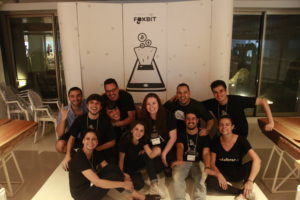 Photos by Bruno Diniz: StartUp Weekend SP Blockchain 2017 Organizing Team